Emotional Support
Association for Lesbian, Gay Bisexual and Transgender Issues In Counseling (ALGBTIC)
http://algbtic.org/
The mission ALGBTIC is to promote greater awareness and understanding of GLBT issues among members of the counseling profession and related helping occupations.
But I Thought I Was a Heterosexual...
http://www.2beornot2be.net/
(206) 328-4895
A Seattle support group created especially for married or divorced women who are questioning their sexuality or sexual orientation.
Compassion & Choices of WA
http://www.compassionwa.org/
(206) 256-1636
C&C's Client Support Volunteers help patients explore their options for pain management, comfort care, and hospice. C&C will also provide support and guidance to qualifying terminally ill individuals seeking to use the Washington Death With Dignity Law. For more information about end-of-life planning for LGBT patients, please download this brochure.
Gay & Lesbian Counseling Of Seattle
http://www.gaylesbianseattlecounseling.com/
(206) 276-0325
We are Gay and Lesbian Counseling of Seattle: an intentional and diverse community of lesbian, transgendered and gay counselors.
The Northwest Network
http://nwnetwork.org/
The NW Network of Bisexual, Trans, Lesbian and Gay Survivors of Abuse works to end violence and abuse by building loving and equitable relationships in our community and across the country.
PFLAG
http://seattle-pflag.org/pflag/
(206) 325-7724
PFLAG provides opportunity for dialogue about sexual orientation, and acts to create a society that is healthy and respectful of human diversity. Keeping families together is the mission of PFLAG.
Seattle Counseling Service
http://www.seattlecounseling.org/
(206) 323-1768
The community mental health service for Seattle's queer community. Offers coming out support groups, crisis intervention, and sliding scale counseling services. Also offers chemical dependency services.
Sound Mental Health
http://www.smh.org/
(206) 302-2300
The mission of Sound Mental Health is to strengthen the community and improve the lives of clients by delivering excellent health and human services tailored to meet their needs.
Get Added to our Mailing List
Support SASG
Photo Gallery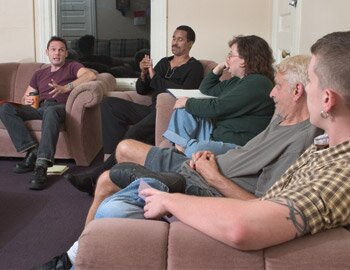 Click here to view our photo gallery